About the release of Cube World on Steam:
The game does not feature dedicated server anymore, so we can't provide any support for Cube World final version.

This is a final wrong choice in a long list of wrong choices from its developer and the result is clear : Cube World final version is a real disappointment.
Rumours of An Upcoming Release
Posted on April 16th, 2015 08:11 AM EST
Cube World has not been updated for almost two years and lot of people think that the game is abandonned and dead. But recently rumours of an upcoming release of a new version for Cube World have appeared.
Two websites, not related, have published a very close release date for Cube World.
The first website,
Gamezilla.pl
, show a release date for the second trimester 2015 for Cube World as you can see on the screenshot below :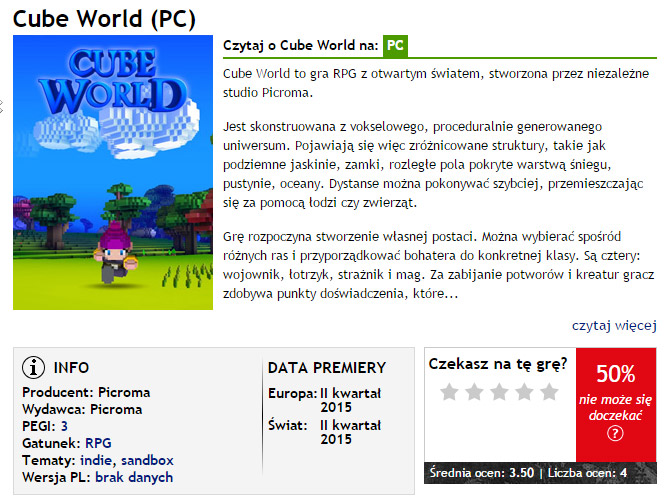 The second website,
gamepressure.com
, show a release date for July 2015 (two years after the last update) for Cube World :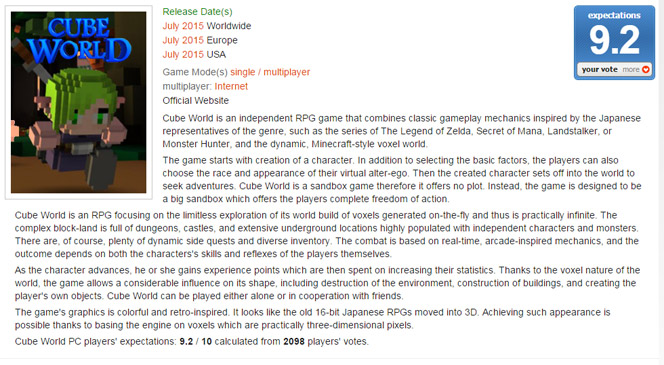 Should we believe this? The problem is that Wollay did not post a single tweet about Cube World since June 2014.
But the good news is that the wait to be fixed about this will not be long. Cross your finger!!
Source :
http://www.reddit.com/r/CubeWorld/comments/31uxvg/found_this_on_a_polish_website_not_sure_if_it/
RSS Feed
Share This Article